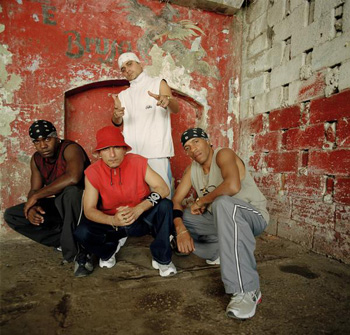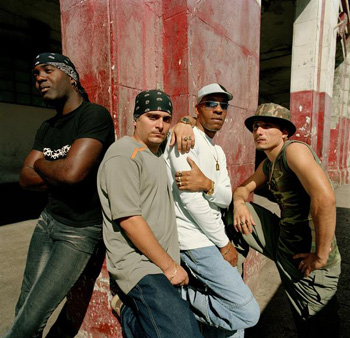 MAXIMA ALERTA ( 2005 – 2008 )
http://www.myspace.com/maximaalerta
[audio:http://www.cubaton.it/audio/biografie/maximalerta.mp3]
MAXIMA ALERTA It all began in Santa Clara, a busy city in the centre of Cuba. There and all over the island, young people listen keenly to radio programs featuring reggaeton, the genre favoured by this 21st century generation. Reggaeton, which became popular as Cubanito 20.02 scored their first hits in 2003, is a smouldering cocktail of rap, ragga and Latin sensuality. In Cuba (where it is sometimes spelt "regueton" or even "reggae town"), the genre is softer, more civilized, less macho than in the rest of the Caribbean. However, it still lies at the heart of a young, often marginalized and even vilified youth culture.
In Santa Clara, Ray Machado (aka "El Italiano"), Francisco Pantaleón (aka "El Panta") and Yoslin Aleman (aka "Mister Show") began to practise together in 1999. Marcos Daniel Prado, a singer trained at the Fagot school, joined them in 2002. Very soon, one of their demos was played on national radio and some of their songs ("Echar pa' lante", "A degüello 1895") became favourites at young people's parties. During a concert in Cumanayagua, they met Flipper, one of the stars from Cubanito 20.02, who told them that the Cubanito label was looking for other groups. Then, at an anniversary concert for "Cuba tonight" (a very popular program on Radio Taino), their energy caught the eye of Lusafrica's artistic director, who immediately suggested they record at Studio Abdala.
The album that resulted, "Llegaron los Alertas", opens with a brief set of credits: as dramatic chords unfold over a background of lascivious electric guitars, thanks go out to old friends, one by one. The Cuban public gave the group such an extraordinary welcome at their first concerts that they get first mention. But immediately afterwards comes DJ Mani, who crafts the group's sound. By the second track, « Pa mis gatas », this sound has established its presence: elastic bass lines, powerful programming, catchy choruses sung in unison with warlike ardour, counterpoints that owe as much (if not more) to rap as so reggae or Latin beats… all goes to showcase a voice that drives itself mercilessly, that unleashes a verbal bombardment of exceptional skill and intensity. Will summer 2005 be the summer of reggateon? It whispered behind the scenes in a number of radio stations: the beat that is currently taking over on all the dance floors of Latin America could have holidaymakers dancing on all the beaches of Europe this summer. If so, Maxima Alerta will be ideally placed to surf the reggaeton wave… Includes the singles "Llegaron los Alertas" and "Mi chiquitica".
From 2005 to 2008 there's no musical news of group. In 2009 Maxima Alerta returns with a collaborations with Gente de Zona recording the famous track Ay Lola.