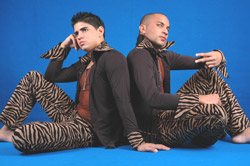 OLD CLAN 537 – 2005
[audio:http://www.cubaton.it/audio/biografie/clan537.mp3]
This can be really described as the perfect combination!
BABY, Yoandys Lores Gonzales, also shortened into LORES,  is a 22-year-old professional musician, since he is an author, composer and arranger, as well as playing piano, guitar, bass and percussion instruments.
INSURRECTO, Leandro Medina Fellové, also abbreviated into EL INSU, is a 22-year-old author, composer and arranger, but most of all, he is unanimously regarded as one of the best 3 rappers and improvisators in the whole of Latin America! And if it were not enough… their manager, Ernesto Diaz Sánchez, is an editing-expert producer and all his family members are artists. What else is left to say… this group has got an excellent grounding for seriously making it into music, but also as a recording studio, the "Formula Production".
Baby Lores in the distant 1994, at only 11 years of age, he started as a guitarist and singer in the prestigious Cienfuegos baby group "Ïsmaelillo", later becoming a pianist and arranger.
In 2003, he joined the group "Cubanos En La Red" (presently in Spain) as a singer and arranger. In 2004, he took over the management of the group "La Formula": since then, he also began a new career as a music producer and this got him to work with leading groups, such as Eddy-K, Gente di Zona, Energia Totale and Acento Latino. During that two-year period, he signed some Sony Music projects for Eddy-K, La Fres-K and Base Llena.
"El Insu" right from the start, in 2000, he began as a rapper at only 17 years of age and immediately participated as a soloist in the "Festival Internacional Habana Hip Hop". In 2001, he founded a group called "Clave Cuba" and triumphed at once in a big way, working in the best Havana clubs, like Macumba Habana, Salon Rosado De La Tropical, Tropicana, Gato Tuerto, Diablo Tun Tun, Café Cantante and Casa De La Música De Miramar Y Galiano.
He also often collaborated as a "supporter" to groups such as Jose Luis Cortés Y NG la Banda, Adalberto Alvarez Y Su Son, Paulo FG, Los Tres De La Habana, Bamboleo, Juan Formel Y Los Van Van etc.
In 2004, he was called to a competition arranged by A.H.S., which was looking for promising rappers: he obtained the 1st prize as a "RAP Genre Soloist" and was immediately invited to sing with famous groups, like Sexto Sentido, Orishas, Obseción, Eddy-K and Clan 537. Just on that occasion, he met Baby (Lores): they first decided to create the duo "BABY & INSURRECTO" and then to become an integral part of the group CLAN 537, together with TIRALO ALE, a resourceful DJ and producer… a guaranteed successful future!
CLAN 537's new album is almost ready. The musicians who made their contribution to it are Baby Lores, El Insurrecto and Tiralo Ale, as well as featurings with Pedrito Calvo (ex Van Van), Yenisel Valdes (singer of Los Van Van), El Indio (singer of Manolito Y Su Trabujo), Sr Rodriguez, Boris SOS, Vania (ex Bamboleo), José Luis Cortes "El Tosco" and Samuel Formell (director of Los Van Van).
TIRALO ALE… An eclectic producer
Alejandro Casals is a tenacious, perspicacious and bright guy. He is a producer who is taking his job quite seriously, given that in Havana many groups turn to him and his studio.
He avails himself of the collaboration of Pablo "El Ingeniero", a very friendly mulatto considered to be an excellent musician. In other words, a perfect pair! Alejandro is a DJ and an integral part of the CLAN 537.
Currently the Clan 537 is separated and the singers are working like soloist singers or with other groups of cubaton.