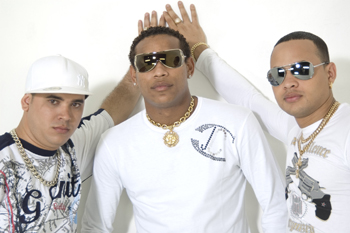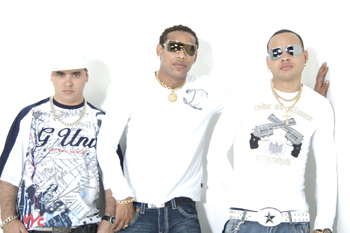 GENTE DE ZONA – 2009
http://www.havanacultura.com  ( BIOGRAPHY )
http://www.facebook.com/gentedezona
[audio:http://www.cubaton.it/audio/biografie/gentedezona.mp3]
"Gente de Zona is a trio that makes the most out of being here in Cuba. It's primarily a reggaeton group that has used this music's popularity to reach young Cubans."
This business-like description doesn't come from the marketing director of a large record company. The speaker is Gente de Zona's founder and chief songwriter, Alexander Delgado ("Ale"), who wants you to know he is perfectly comfortable with his group's popularity and its status as a leading exponent of the highly danceable music known as "Cubaton".
Delgado, 27, grew up in Alamar, the Havana neighborhood most closely associated with Cuban hip-hop and home to the annual Alamar Rap Festival. "In the beginning I was going to all the rap shows and I started sampling, but I wanted to do it in a different way," Delgado recalls. "When reggaeton arrived, it gave me the opportunity to put our street lyrics into a more commercial format, and to give dance music some currency, some meaning."
According to the group's official biography, Gente de Zona started back in 2000, when Delgado was trying to bring various Alamar rappers together to make music. "In the beginning we were just guys from our neighborhood, and I didn't have a name so we came up with 'Gente de Zona' (neighborhood people)." Delgado eventually met Michel "el Caro" and the two of them started playing parties and official venues in Havana neighborhoods where hip hop was big –  Guanabacoa and Regla, but especially on their home turf, Alamar.
In 2005 Michel's departure allowed Gente de Zona to evolve into the trio they are today: Alexander was joined by Yosdany ("Jacob Forever') and Fernando Otero ("Nando Pro"). 2005 was also the year Gente de Zona recorded its first and only album so far, and scored a hit single with "Pa' la Gente de Mi Zona". For a long time it was impossible to watch the Cubavision TV channel without seeing Gente de Zona playing either "Soñe" or "La Campana", two other hits.
So, to make it clear, Gente de Zona was not a business decision sparked by the worldwide popularity of reggaeton, which first took off in Panama and Puerto Rico in the 1990s. Gente de Zona are, however, among those responsible for making reggaeton more interesting – and more Cuban. Says Delgado: "I'm from Alamar, Nando is from Santa Fe, and we were part of Cuban hip hop from the beginning. We dressed like the other rappers but we didn't sound like them. Our lyrics were more commercial. Almost all of our songs come from the street, from our personal experience, but we didn't want our music to be for just one area. We wanted to translate our thoughts and what we were doing musically for a wider audience, for all Cubans."
Another point of clarification: success didn't come easily or quickly for Gente de Zona. "A hit's not gonna happen without a lot of work," Delgado says. "When we actually had our first hit, I was surprised. I mean, we had a hard time in the beginning. We were working hard. We were really close to giving up. We wanted to be popular right away and it wasn't happening. So when it finally happened and we became popular, we were surprised. I'm willing to say we got lucky, but I don't think you can get lucky if you aren't ready for it."